Complete Landlord Recommended Resources
Become a Complete Landlord Resource
for only a $175 One-Time Review Fee
Simply provide us with your website address, site description, and image if desired.  The resource must be real estate related.  Upon our review and approval of your product or service, we will make your site available to our customers as a CompleteLandlord.com resource.  If we do not approve your site, we will issue a refund.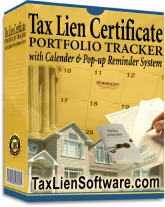 Tax Lien Certificate & Deed Portfolio Tracker

™
Our tax lien software is designed for the individual tax lien and deed investor who needs an easy-to-use system to record and track tax lien and deed investments.
The Complete Landlord® System for Rental Property Investing
A training system for landlords and real estate investors who want to learn how to invest in rental properties.  Start learning now by downloading the Complete Landlord book, real estate forms, and checklists.
This step-by-step electronic manual is geared toward landlords in the US and Canada, and is filled with navigational and educational "QuickLinks" to help educate you on every aspect of being a landlord.  In addition to having everything you need literally at your fingertips, the book includes an exclusive collection of essential landlord forms in fillable and customizable formats
Save Money!
Save Time!
Avoid Common Mistakes!
Minimize Risks
The Complete Landlord: Real estate book, over 35 fillable and editable real estate forms, tenant move-in and tenant move-out packages, and real estate checklists for landlord rental property investing.