Discover Everything You Need to Know
About Being a Rental Property Owner!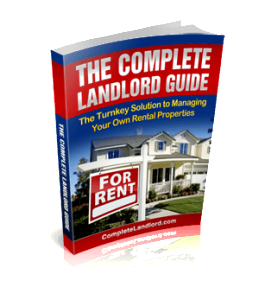 Save Time.  Save Money.  Maximize Profits.  Minimize Risks
The Complete Landlord® Guide, Book & Real Estate Forms is a training system for landlords and real estate investors who want to quickly and easily set up a rental property business that maximizes profits and minimizes risks.
Over 35 Essential Real Estate Forms Included!
This step-by-step electronic manual is geared toward landlords in the US, Canada, Australia and the United Kingdom and is filled with navigational and educational "QuickLinks" to help educate you on every aspect of being a landlord. In addition to having everything you need literally at your fingertips, the book includes an exclusive collection of essential landlord forms in fillable and customizable formats!
Whether you have one property or dozens, whether you are a full-time or part-time landlord, experienced or not, you can easily acquire the knowledge and strategies of effective rental management.
Evaluate your unique personal and financial goals
Understand your rights and obligations as both a property owner and manager
Set up a legitimate property management business
Develop clearly defined policies and procedures
Attract and keep good, PAYING tenants
Create ads to attract ideal tenants
Evaluate an applicant credit report
Use screening strategies to weed out bad tenants
Determine appropriate rent and deposit amounts
Collect rent payments in full and on time
Effectively deal with difficult tenants
Avoid tenant evictions
Create leases & forms that will protect your interests (using our exclusive automated form templates)
Learn and apply the landlord-tenant laws in your jurisdiction
Get expert advice and referrals
Find continuing education tools to streamline and improve the way you do business
Don't be overwhelmed, get the quick-start, step-by-step,
all-you-need-to-know guide to managing properties today!
The Complete Landlord: Real estate book, over 35 fillable and editable real estate forms, tenant move-in and tenant move-out packages, and real estate checklists for landlord rental property investing.
Complete Landlord Guide Book
November 28, 2013